Second migrant ship docks in Spain
Comments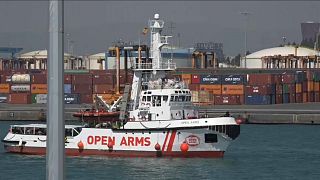 A ship run by the Spanish Proactive Open Arms charity carrying 60 migrants has arrived in Barcelona.
It's the second ship to dock in Spain recently, after Italy and Malta closed their ports to boats carrying migrants.
There are various nationalities on board including Palestinians, Syrians and Guineans.
The Head of the Mission says the passengers are delighted to finally reach land after four days on board.
Head of Mission for Open Arms, Guillermo Canardo says, "The conditions are good, we have a medical team on board, they're checking everybody, they are happy because they are going to Europe, they have the hope to start a new life, but at the same time, the people suffered a lot of pain in Libya."
It comes after the first ship, the Aquarius landed at Valencia two and a half weeks ago with around 630 migrants.
They'd been at sea for over a week and were at the centre of tensions in Europe over the migration policy.