Hungarians embrace plastic-free July
Comments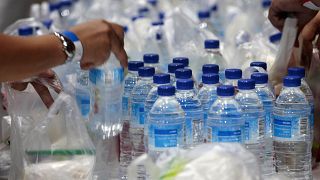 People living in Hungary will be avoiding using plastic (PETE) bottles this month.
More than a dozen restaurants and cafes in Budapest have agreed to fill used bottles or flasks with water for free.
It's in a bid to have a Plastic Free July, and three NGO's are organising the campaign.
Judit works at the Gastro-hero Foundation. She says it's particularly important that this scheme happens during the hot summer months.
"We are inviting everyone not to buy plastic (PETE) bottles for a month," she says. "It's important to do this campaign during the summer, because most of these bottles are used during this period of the year. We have to carry water with us, when the weather is hot, but if we run out, we can go into one of the participant restaurants or café's, and our flask or bottle will be refilled."
The Foundation aims to have a plastic waste free world, where 150 countries are taking part with millions of participants.
One pub in the heart of Budapest's party district, is involved. Janka Vamos, the Bar Manager at the Kőleves kert pub, says: "We don't serve drinks in plastic glasses this month and we put a sticker on the straws saying: Do you really need a straw? Which aims to invite our guests not to use them."
More and more plastic items such as forks, knives, straws and bags are being banned worldwide.
We're now seeing how contaminated our seas are with plastic and people are starting to understand the need to stop using these types of items.
A lot of sea animals are dying because they eat our waste or they suffer because they become entangled in it.