Australian eyewear company's fashion shoot at WWII death camp sparks outrage
Comments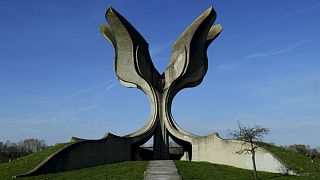 Copyright

REUTERS/Antonio Bronic
An Australian eyewear company has apologised for filming part of an advertising campaign at a World War II death camp in Croatia, claiming it was "completely unaware of the sensitivity" of the site.
Valley Eyewear published a series of photos and videos taken on a trip to Eastern Europe earlier this year in which models are seen posing in sunglasses at sites including the Flower Memorial at Jasenovac, a World War II-era death camp run by Croatia's pro-Nazi Ustasha movement.
The memorial is dedicated to the tens of thousands of Serbs, Jews, Roma and anti-fascists killed at the camp in the 1940s.
The campaign has now been removed, but screenshots by social media users show that alongside the images from the site, Valley Eyewear posted promotional messages saying the footage for its 'Black Zero' line of sunglasses was shot at one of World War II's "most historic and darkest locations... in memory of the tens of thousands of people that perished on this site."
Outraged social media users criticised the firm for using the site in a fashion campaign, saying it was offensive to the more than 83,000 people killed at the camp.
In a statement to Euronews, Valley Eyewear director Michael Crawley said the campaign, shot in Croatia, Serbia and Bosnia, sought to document Spomenik architecture locations.
"Valley Eyewear was completely unaware of the sensitivity of a number of the locations, in particular the Jasenovac site where a photoshoot was undertaken for approximately 30 minutes," he said.
He added that Valley Eyewear had deleted the material from all online and social media platforms and had contacted the director of Jasenovac and the head of the Australian Jewish Community to "apologise completely."
When asked to clarify his claims that Valley Eyewear was not aware of the "sensitivity" of the site despite promoting the material as being shot at one of World War II's "darkest locations", Crawley declined to comment.
"We are a respectful company we would NEVER want to offend anyone," he said by email.
As of Wednesday morning, the company's Twitter account appeared to have been deactivated, but Valley Eyewear would not comment on whether it was linked to the campaign or when it would return.