Kurz responds to German migration deal with plans to toughen borders
Comments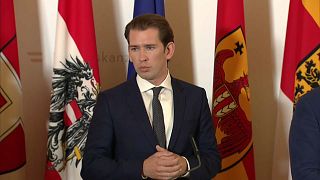 The Austrian Chancellor, Sebastian Kurz, has said that Germany's new migration agreement, which ended a political crisis in Angela Merkel's government, could force Austria to introduce tougher border checks on Italy and Slovenia.
He said it reinforced the need for strong external borders.
"One thing is clear to us; we are prepared for all scenarios and are also prepared to take all measures necessary to avert damage not only to our republic but also to the population in Austria.
"We are prepared to answer national measures by the Germans by setting measures at our borders, especially at our southern borders."
Speaking earlier in Strasbourg the European Commission President, Jean-Claude Juncker, said they will be looking into the legality of the German deal.
Kurz's comments come amid several immigration rows across Europe; within the German government, between Germany and Italy and between Bavaria and Austria.