Croatia knocks Denmark out of the World Cup winning 3-2 on penalties
Comments
By Jordan Jones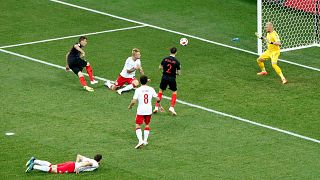 Croatia will play Russia in the quarter-finals of the World Cup after a penalty shoot-out victory over Denmark.
The two could not be separated after a closely fought game, including the penalty shoot-out which saw goalkeeping heroics from both keepers.
A frantic first five minutes gifted each side a goal. A long throw undid Croatia quickly with Denmark scoring in the first minute thanks to Mathias Jorgensen scoring from close range.
Croatia responded immediately when Rakitic's cross wasn't cleared and Mario Mandzukic struck home his side's equaliser.
Denmark tried to retake the lead when Braithwaite tried to slide it past Subasic but he hit it straight at the Croatian keeper. Liverpool defender Dejan Lovren headed just wide of the goal in the first half for their own chance of going in front.
With penalties looming, Croatia was awarded a penalty after Jorgensen fouled Rebic. Captain Luka Modric was denied by Kasper Schmeichel as he guessed the right way.
Barcelona's Ivan Rakitic made the most of Nikolai Jorgensen's poor spot-kick, scoring the decisive penalty. 
5 Things we learned
Schmeichel's heroics were not enough
It was a battle of the goalkeepers and Kasper Schmeichel is unlucky to be on the losing side. He saved his country on numerous occcasions, but couldn't prevent Croatia from winning this one.
Quickstart didn't live up to it
With two goals in the first three minutes, we may have thought there was going to be a goal fest. Instead, the defences sured themselves up and put on a physical performance.
Croatia need to be more creative
The pressure will be off in the next game, given they'll be playing the hosts, but Croatia will need to be a bit more creative. Manduzkic was isolated after his goal.
Unlikely quarter-finalists
For just the second time in their history, Croatia will be in the Quarter-Final of the World Cup. With giants Spain out, they could at least replicate their performance in 1998, when they finished third in the tournament.
Modric redeems himself
When presented with a chance to put Croatia through, with five minutes left in extra time, Modric was expected to score, but his penalty was saved by Schmeichel. He did make amends however by scoring in the shoot-out to put them on their way to victory.