German Interior Minister offers to resign over asylum policy
Comments
By Judith Mary Prescott & Sallyann Nicholls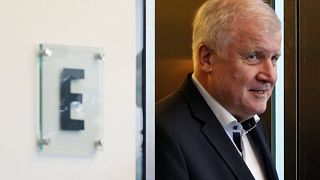 German Interior Minister and CSU party leader Horst Seehofer has offered to leave his posts over the Chancellor's asylum policy, according to party sources.
The conservative Bavarian Christian Social Union (CSU) is a coalition partner of Angela Merkel's centre-right Christian Democratic Union (CDU) in Berlin.
But sources said Seehofer had not yet submitted his resignation, adding that some in the party were attempting to change his mind over the decision.
The interior minister slammed the deal Merkel struck over migrants with EU leaders on Friday, calling it "ineffective".
Last week he threatened to turn asylum seekers away from Germany's borders unless Merkel reached an acceptable deal with other EU partners.
The CSU will face a state election in Bavaria in October and has opted to take a firm stance against immigration as part of its campaign.
If Seehofer goes ahead and resigns, the move would leave Merkel once again fighting for her political life.