New Border Police at Bavarian and Austrian border
Comments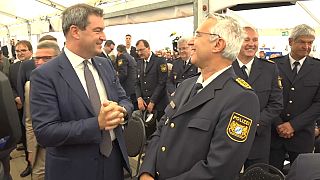 In the middle of the current EU dispute over the refugee policy between the sister parties CSU and CDU, the newly created border police in the federal state of Bavaria has started its work.
It comes as the CSU emphasized that the timing was coincidental as the event had been planned for months.
The new border police will work with the federal police to secure the boundary.
The influx of refugees across the Bavarian-Austrian border has declined sharply.
President of Bavaria Markus Söder says, "One thing is important to us: we're convinced that we need improved security at our borders. We also believe that we still have to gain ground. We have always seen what has been decided in Europe is an important step, but it will take a very long time and we've also noticed over the last few days there are uncertainties about which countries are participating and which are not. In this respect, I believe that real action in Germany is simply imperative to strengthen European interests".
With state-of-the-art equipment, the new border police will be able to compare data of asylum seekers which should prevent people applying for asylum in several different EU countries.