Supreme Court upholds Trump's travel ban in 5-4 ruling
Comments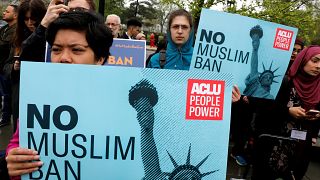 The U.S. Supreme Court upheld President Donald Trump's travel ban in a 5-4 ruling on Tuesday.
This was the administration's third draft following two failed attempts to pass the legislation.
The ban seeks to limit travel from seven countries whose vetting procedures for security threats are inadequate to the President. The countries include Iran, Libya, Somalia, Syria and Yemen, Venezuela and North Korea.
Chief Justice John Roberts wrote that "the Government has set forth a sufficient national security justification to survive rational basis review" and that the ban is therefore "squarely within the scope of Presidential authority."
The court and the administration stated the proclamation has nothing to do with race or religion.
"The Proclamation is expressly premised on legitimate purposes: preventing entry of nationals who cannot be adequately vetted and inducing other nations to improve their practices," Roberts said.
The American Civil Liberties Union called the court's ruling a "failure" on Twitter, urging protesters to rally with the hashtag #NoMuslimBanEver.