Explosion devastates apartment building in Germany
Comments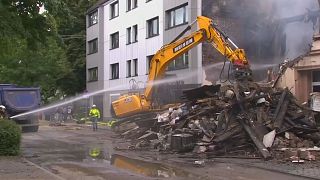 Copyright

REUTERS/TT NEWS AGENCY
An explosion in an apartment building in the city of Wuppertal in western Germany has injured a number of people, at least five of them seriously, according to police
The blast struck the multistory building shortly before midnight on Saturday.
The German news agency DPA said the detonation was so severe that it destroyed the building's attic and top three floors.
A fire then broke out in several different parts of the building. Firefighters had trouble putting out the flames as parts of the building kept collapsing.
Authorities have yet to provide any information about the cause, but police have begun a criminal investigation.
Later on Sunday, authorities tore down the remains of the ruin. They said it was too dangerous for investigators to search for evidence, as the building could collapse at any time.