Switzerland secures 1-2 victory against Serbia in 90th minute
Comments
By Ben Gibson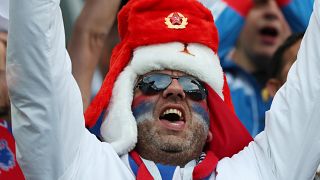 Copyright

REUTERS/Ricardo Moraes
Switzerland has come back from 1-0 down in the second half to beat Serbia 2-1.
Mitrovic scored for Serbia within the first five minutes of the game and during the first half, with Switzerland struggling to take chances.
However, during the second half, they brought a goal back when Zhaka scored from outside the area.
Switzerland then continued to attack throughout the half and really challenged Serbia.
Shaqiri scored for the Central European team during the last minutes of the game.
During the game, VAR was in the limelight for the wrong reason when Mitrovic was pulled down in the area and robbing Serbia of a surefire penalty.
This is something that FIFA said it would work on but it seems that VAR is still inconsistent.
Five takaways from Serbia vs Switzerland
Mitrovic and his headers
Mitrovic scored the first goal of the game within five minutes after two attempts at scoring a header. Throughout the game, Mitrovic got into dangerous areas and was an ariel threat to Switzerland when high passes were played to him.
Xhaka from outside the area
Xhaka scored an amazing goal from outside the area that the keeper was unable to stop. This is something that he has done for Arsenal in the Premier League on many occasions. In order to stop this teams will need to reduce the space he creates for himself outside the area if they want to stop this from happening.
Switzerland are resilient
After halftime, Switzerland came back into the game and got back into attacking. This worked well for them — not only did they score an equaliser but they also seemed more confident getting more shots on goal.
VAR problems
The VAR system was said to be going through checks after England vs Tunisia but said tests seem to have gone unnoticed when Mitrovic was pulled down by two players in the area. This is similar to what happened to Harry Kane and in this case, he also awarded a free kick to Switzerland. This shows that VAR needs more work if it is to continue in football.
How does this leave the group?
By winning this game, Switzerland put themselves second in the table, behind Brazil. While Costa Rica are out of the tournament, any of the three other teams could go through — Brazil must face Serbia and Switzerland will play Costa Rica.