Euro, migrants, defence: What Macron and Merkel agreed on
Comments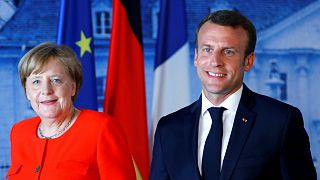 Angela Merkel and Emmanuel Macron said they were "opening a new chapter" for the EU on Tuesday after agreeing on deeper integration in several domains, but the details still need to be thrashed out with the bloc's other members.
The leaders of Germany and France — the two countries widely seen as the motor of the European project — met in Berlin to discuss and agree on a roadmap for the future of the EU.
"Our goal is to keep Europe from becoming more divided," Merkel told reporters after the bilateral meeting.
Here are the main takeaways.
Eurozone budget
The two leaders agreed on the creation of a eurozone budget "to promote the competitiveness, convergence and stabilisation" of the euro area, they said in a joint statement released after the meeting.
It is expected to come into effect in 2021 and will stand alongside the EU budget.
The funds will come from national contributions, revenue from taxes and the EU and will be invested in innovation and "human capital".
The size of the budget has not yet been agreed on. In the past, Macron has lobbied for it to amount to several hundred billion euros, while Merkel recently said that it should be "at the lower end of the double-digit billions of euros range".
Migration
Regarding the migration crisis, the two leaders backed a significant increase in the number of officers at the bloc's external borders. They also championed the creation of a European asylum office to harmonise practices across member states and deal with asylum applications at the external borders.
Merkel and Macron also want to ramp up deals with source and transit countries modelled on the existing one with Turkey in order to "prevent departures towards Europe, fight against illegal migration and accelerate the return process".
Finally, they agreed that EU nations should be able to send back asylum seekers who first registered in another member state.
"France and Germany will ensure that those who are registered in a Schengen-zone country can be taken back as quickly as possible to the country where they have been registered," Macron said at a joint press conference.
This was especially important for Merkel who was severely weakened at home after allowing more than a million asylum seekers to settle in Germany since 2015.
Security
Merkel has backed Macron's call for a rapid-reaction military force.
The two leaders had previously disagreed on who should be allowed to take part, with Macron backing allowing non-member states in, while Merkel preferred limiting it to the bloc.
They compromised and said it should be "linked as closely as possible" to the current Permanent Structured Cooperation, which allows countries to coordinate their defence strategies and engagements abroad.