7 charts that explain the global refugee crisis
Comments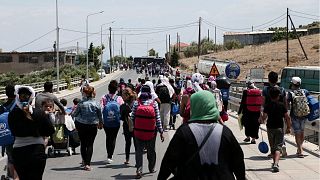 Record numbers of people were driven from their homes in 2017 by wars, violence and persecution, bringing the number of forcibly displaced people living around the world to 68.5 million.
Conflicts in countries including Syria, the Democratic Republic of the Congo, South Sudan and Myanmar were among the greatest drivers of movement, forcing people to flee in search of safety.
On World Refugee Day, we take a look at the numbers behind the global refugee crisis.
Number of refugees by country of origin
Top five host countries of refugees
Top five source countries of refugees
Refugee populations by region
Largest populations of internally displaced people
Main European countries of asylum for new asylum seekers