Last batch of wine from legendary French winemaker Henri Jayer sells for €30mn
Comments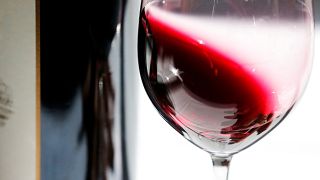 The last batch of Burgundy wine from the late legendary French winemaker Henri Jayer was sold on Sunday in a record-breaking auction fetching nearly €30 million.
During six hours, some 100 bidders from around the world fought over the 1,064 bottles of the red nectar up for grabs at the sale organised by auctioneer Baghera/wines in the Michelin-starred Domaine de Chateauvieux in Geneva, Switzerland.
"From the number of lots up for sale to the total value, it was the most important sale of wine ever achieved," Michael Ganne, director of Baghera/wines, told Euronews.
The CHF 34.5 million (€29.8 million) total pulverised expectations which were estimated between CHF 7 million and CHF 13 million (€6 million to €11.2 million).
Not one of the 215 lots — comprised of 855 standard bottles and 209 magnums from Jayer's private cellar — went unsold and three, in particular, drew fierce competition.
A lot of 6 magnums of Vosne-Romanée Cros-Parantoux, 1999, was acquired for CHF 528,000 (€457,000); 15 magnums of Vosne-Romanée Cros-Parantoux, 1978 to 2001, were sold for CHF 1,164,000 (€1,007,257); and a single bottle of 1986 Richebourg went under the hammer for CHF 50,400 (€43,613).
"This sale was historic for two reasons. Henri Jayer was a genius whose unique touch put his wine into an entirely different realm in terms of degustation," Ganne said.
"And these were the last bottles from his private cellar. We're closing the chapter on Henri Jayer's wine."
"Henri Jayer was already legendary," Ganne told Euronews. "Now, he's made it into the pantheon."
Who is Jayer:
Henri Jayer was born in Vosne-Romanée, in the French region of Burgundy, in 1922.
At the end of WWII, he entered a 10-year contract with the local Noirot-Camuzet family to cultivate and manage their vast wine-growing property in exchange of 50% of the grapes — but carried on working with them until 1987.
All the while, Jayer started acquiring small portions off nearby Clos Parentoux vineyards and cultivated them under his own name. At the end of his esteemed career, he reigned over an 80-hectare domain.
His purist approach combined with a revolutionary flair — he invented the cold soak technique allowing for richer flavours — cemented his reputation as a pioneer, while his low production ensured his wine became one of the most sought-after in the world.
Jayer passed away in 2006 at the age of 84.