Watch: Thief steals €30K Banksy artwork from Toronto exhibition
Comments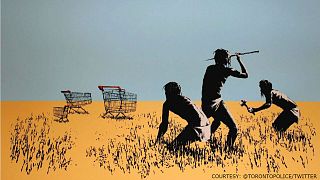 Toronto police released CCTV footage of a brazen thief stealing a Banksy painting.
They said the "Trolley Hunter" painting was stolen from The Art of Banksy exhibition in the city's west end on Sunday at around 5 am local time.
The eminent street artist's work was valued at $35,000 (€30,195), according to police.
In a statement released with the CCTV footage, they said the robber "entered through an interior door of the premises," picked up the print and left via the same route.
He was described as wearing glasses, a black jacket, a green, camouflage baseball hat, blue jeans that were rolled at the bottom, grey running shoes and glasses.
The Art of Banksy show was curated by the anonymous artist's former agent, Steve Lazarides, and displayed in an industrial building.
"Trolley Hunter" shows three crouching hunters that appear to be targeting a group of shopping carts.
Police appealed for anyone with information to contact them.