UK's tech industry to receive €2.6 billion boost
Comments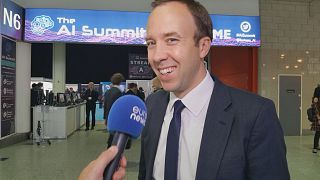 Britain's government has announced a £2.3 billion (€2.61 billion) private investment boost to push AI talent, including the creation of over 1,600 jobs, and a Centre for Data Ethics and Innovation.
Major businesses including Salesforce, Ocado, Amazon, Rolls Royce and McKinsey & Quantum Black are backing the plan to develop the next generation of AI experts in the UK.
"We're the leading tech-hub in Europe and we're determined to stay that way," said UK's Secretary of State for digital, culture, media and sport, Matthew Hancock, to Euronews reporter Jeremy Wilks.
The new Centre for Data Ethics and Innovation's purpose is "to advise on what rules changes might be needed, but also to set standards that aren't based on legislation, but that answer some of the ethical questions and ensure that the architecture of algorithmic AI is built in an ethical way."
Secretary Hancock is determined for Britain to remain as the leading tech-hub in Europe.
But what about European competition? The French are receiving a lot of inward investment.
"Well, I love the French, and I admire what Emmanuel Macron is doing. I admire the fact that they're the third biggest digital economy in Europe. But the truth of the matter is that investment in the UK is bigger than France, Germany and Sweden combined."
The plan comes as the UK government confirms a new Start-Up Visa for entrepreneurs to launch in Spring 2019. And according to Secretary Hancock, the visas will be judged by accelerators and entrepreneurs to make sure "that people with the best ideas can start and grow their digital businesses" in the UK.