The Republic of Northern Macedonia - what happens next
Comments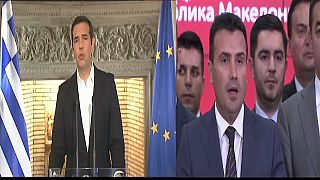 The Republic of Northern Macedonia is soon to be the new name for the Former Yugoslav Republic of Macedonia (FYROM) after the Greek Prime Minister Alexis Tsipras and the Macedonian Prime Minister Zoran Zaev finally reached an agreement.
The Greek PM says "it secures the historic heritage of ancient Greek Macedonia".
The next step is for the deal to be signed by the foreign ministries of both countries over the next few days.
So what ARE the key points?
The new name will be used internationally and domestically and people will be Macedonians. And the language will be Macedonian but originally Slavic.
However, several critics say the deal's problematic. The accord must still be approved by Macedonians in a referendum AND by parliaments of both countries where nationalist and opposition parties have vowed to resist it. Also, Greece's New Democracy leader says that Tsipras lacks the authority to sign it.
After the deals been signed and ratified, a Greek letter will be sent to the EU and NATO so at the EU summit FYROM can be invited to start EU membership talks (25, 26 June 2018).
Then NATO will invite them to the summit in July (11 July 2018).
The referendum is set sometime between September and December this year.
The NATO ratification could take 24 months.
However, Tsipras hopes the accord will boost his legacy and help improve the international image of Greece as a problem-solver.
He told Greeks he was turning Greece into "a leading power in the Balkans" and "a pillar of stability in a deeply wounded region".