'Aquarius' migrants near the end of their ordeal
Comments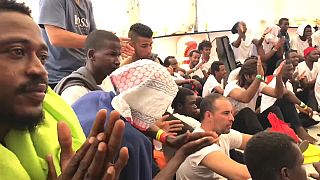 It is the beginning of the end of a journey to Europe for hundreds of migrants aboard the humanitarian vessel 'Aquarius'.
They are now on their way to Valencia, Spain – following Italy's decision to close its ports to the men, women and children rescued this past weekend in the Mediterranean Sea.
Our correspondent Anelise Borges has been following this story from aboard the Aquarius and has this exclusive report.
The migrants were asked to gather for some important news after more than 3 days at sea. The idea of finally reaching shore was a relief.
"We ask God to bless Spain and all countries related to Europe. Thank you," said one young man from Nigeria.
The Italian authorities agreed to take 500 people aboard a naval and a coastguard ship. These vessels are now escorting Aquarius to the Spanish port of Valencia.
It's a trip that promises to be yet another trying part of this journey.
"It will be at least 3 and a half days. That would be the transit time in good weather conditions, but we already know that we will encounter strong western winds and so we will probably have to reduce speed," says SOS Méditerranée coordinator Nicola Estella.
Many questions remain about the future of these men and women who found themselves at the heart of one of Europe's biggest immigration controversies.
Will they be able to stay in Europe?
And if not, what will happen to them?
While some pondered those ideas, others already started worrying about the next search and rescue mission.
Forty-one people were rescued off the coast of Libya while attempting the crossing and 12 died at sea on the same day that marked the beginning of the end of the dramatic journey for those aboard Aquarius.
Anelise Borges, aboard Aquarius, for euronews.