Football for Friendship profile: Soan, France
Comments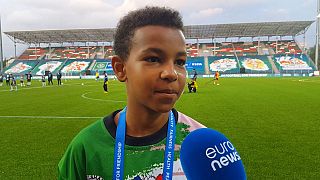 Gazprom's international children's social programme Football for Friendship gathers young players and journalists from around the world to participate in a range of events that aim to bring cultures together to promote key values. Euronews met some of the young talents at the 2018 edition in Moscow.
Soan from Montpellier is representing France at Football for Friendship and is confident in the power of the beautiful game: "Play football! It's the best sport in the world" he tells Euronews with a smile when asked what message he would bring back home from the event.
Back in France Soan, who has three other siblings, likes spending time with his brothers and sisters. While he is also a very talented tennis player, football is his true passion and he has set himself the ambition of becoming a footballer for the French national team.
Why do you like football?
Because I like team sports and because we can make strong friendships between players. We don't always need to speak the same language to understand each other, we can understand each other through football.
How can football help people?
If people want to find friends then they can play football, they will definitely find some.
What have you learnt?
I learnt that no matter what language we speak, we can become friends and understand each other. For example, my friend Abu comes from Sierra Leone and we understand each other, even though he doesn't speak the same language as me at all… In the beginning it was a bit strange, but we tried to adapt to the languages, we learnt some words, it was really cool.
How is it different here, compared to home?
It's really different compared to Montpellier, Moscow is loads bigger, the stadium is amazing.
What makes a good friend?
A good friend is someone who is always there for you, for his friends. Always helping each other. Someone who is always there where someone is hurting, always. That's a good friend.
Which of the 9 values is particularly important for you?
Honour! Without honour there is nothing. Honour is being able to say you've lost a match and that the other team was better, that's honour.
What message would you give to kids who might take part next year?
I would tell them that it's great! That you meet lots of people, that even living in the hotel is great. We meet people in the hotel, there are sometimes tourists who come to take photos with us.