Football for Friendship profile: Ananya, India
Comments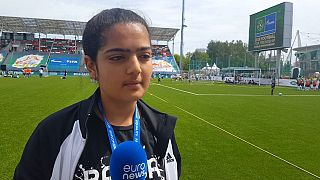 Gazprom's international children's social programme Football for Friendship gathers young players and journalists from around the world to participate in a range of events that aim to bring cultures together to promote key values. Euronews met some of the young talents at the 2018 edition in Moscow.
Returning this year as a 'young guest' 14-year-old Ananya first became part of the "Football for Friendship" project in 2017 as a young journalist. When she returned to India, with lots of enthusiasm and stories to tell her father encouraged her to write a book about her experiences. So Ananya took up the challenge, writing "My Journey from Mohali to St. Petersburg" about all nine of the key values discussed at F4F: friendship, equality, fairness, health, peace, devotion, victory, traditions and honour.
Impressed by the young writer's connection to the project, F4F organised the printing of her book which she presented at the 2018 International Children's Forum "Football for Friendship".
So this isn't your first time at F4F?
This is my third time at Football for Friendship. The first time I came for the 5th season of Football for Friendship and then in February I came for the open draw of the 6th season.
Why did you want to come back?
They called me because I wrote a book about Football for Friendship… The book is about my experience and all the 9 basic values that are promoted by this programme… These values are very important. If you have friends across the globe then you will have peace and harmony in the world then there will be no wars.
Can this project really change lives?
Yes because it unites the whole world… They should bring more children, last time there were 64 countries that participated, this year there are 211. I wish that next time this will increase even more.
What will you do next?
When I grow up I want to be a journalist… I will be a journalist in the football field but on a news channel.
What will you tell your friends and family back home?
I'm surely going to tell them about my experience. First of all about my book. The UN Secretary-General and the FIFA general are going to publish my book in the forum.
Tell us something else about your experience here
Last year there were only 64 countries, this time there are 211 and now we have friends across the globe, in every continent, in every part of the continent and every region.