Football for Friendship profile: Nadav, USA
Comments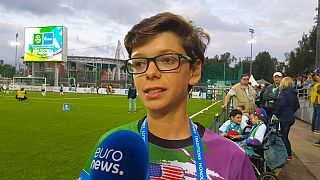 Gazprom's international children's social programme Football for Friendship gathers young players and journalists from around the world to participate in a range of events that aim to bring cultures together to promote key values. Euronews met some of the young talents at the 2018 edition in Moscow.
During the semi-finals of the F4F World Championship, we grabbed USA participant Nadav who has been taking part as a young journalist. Back home he loves being outdoors and playing sport, over in Russia—accompanied by his Dad—he has been learning tips of the journalism trade, and already speaks with ease in front of the camera.
Despite falling sick at the beginning of the trip Nadav has thoroughly enjoyed the whole experience, telling Euronews: "even if some things are rocky, in the end it's all fun and you meet a lot of new people". While he has had a great time in Russia he seems happy to be returning home eventually: "I prefer my city at home, but it's nice here too".
What has been the best part of the trip?
The best part so far was today watching all the games, it was really fun supporting my team. Although I didn't play it was really fun to be with them.
Why do you like football so much?
I like it because it's a flowing creative game, you're really independent. You make a name for yourself it's not like (American) football or basketball where the coach tells you what to do. Once you get the ball you do anything you want.
Do you think that football can help people?
I think it can bring people together, this programme shows that. All kinds of people from all kinds of different places, united with the sport… When people find each other in the park to play together you make new friends, it's really fun.
What have you learnt?
I've learnt a lot about the nine values they teach here, I've also learnt a bit about interviewing, taking photographs, about the culture here in Russia and other people.
What do you want to do when you're older?
When older I'd like to be a sports writer or maybe a businessman. I want to make a lot of money that's for sure.
What do you do in your spare time?
I like reading, watching sports on TV, doing anything outside like hiking, sports. I like being with my friends, playing with them
Tell me about your friends and what you think makes a good friend.
My whole team was super nice. There were a couple from Angola, one from the USA, Ukraine, all kinds of places all over the world... What makes a good friend is that they are trustworthy, always nice to you and it's good if they're funny too.
Which of the 9 values is most important to you?
For me, it's friendship, which is basically the main point of this programme. I think it's super important because friends can help you in life and help you get passed hard things. Friends are important to have a fun time with your life.
Who's going to win the World Cup?
I think England have a good chance. I'll support England or Belgium. I like the Premier League and most of their players are from there.