Brexit: Boris Johnsons calls UK treasury 'quivering wreck'
Comments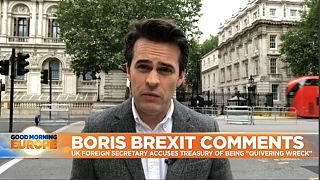 Donald Trump could do a better job on Brexit than Theresa May – That's what Britain's foreign Minister Boris Johnson allegedly says in leaked audio obtained by Buzzfeed. In the recordings a series of explosive comments are made, allegedly at a private dinner for Conservative Party Donors.
It comes in a chaotic week for Theresa May who was forced to address the Secretary of State for Leaving the European Union David Davis after rumours spread that he was going to resign because of plans to keep Northern Ireland inside the European Customs Union for an undefined amount of time.
Boris Johnson, who is also notably a supporter of the so-called 'Hard-Brexit' also reportedly accused the treasury of being a "quivering wreck" when it came to post-Brexit economic opportunity.
Vincent McAviney has more from London.