Briton cheesed off after Swiss deny citizenship over raclette
Comments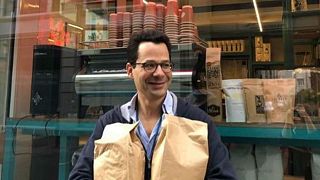 David Lewis has lived in Switzerland almost his whole life. He's worked in Geneva in finance and later left that job to open a coffee shop in Zurich. At the end of 2016, Lewis decided to apply for Swiss citizenship, which he was denied this April after failing to correctly answer some questions at a citizenship interview — including one about the origins of raclette.
The Briton started his citizenship application in December 2016 in which he had to provide an "extreme amount of paperwork" that he qualified as "laborious". After that, Lewis had to pass a written examination in German that is required to qualify for the interview, which he succeeded with a score of 80%.
However the interview phase in March this year proved too difficult for Lewis. He told Euronews that he and his son — who was also applying for Swiss citizenship — were questioned for an hour by members of the council of Freienbach, near Zurich.
"We were grilled on all types of questions relating to Switzerland and sadly I was unable to answer all the questions to a hundred per cent."
Lewis said that the experience was "deeply humiliating, especially for my son who was six at the time."
He also said he found it disturbing that his son also needed to be interviewed but was told that that was the procedure.
As a result of the failed answers, both Lewis' and his son's application were rejected — even though Lewis says his son answered his questions "with flying colours."
"He was even given a gift and told that he had answered his questions with great competence."
For his part, Lewis said the questions he didn't answer correctly — which included knowing the origins of raclette — were "ludicrous" and "too minute to be of any importance."
"I'd already shown with my passing of a written examination in German that I'm interested and knowledgeable about Swiss society," said the 43-year-old.
'Extreme aggression and animosity'
According to Lewis, it didn't matter what he already knew because the interviewers were trying to get him with any question that he couldn't fully answer.
The Brit described the atmosphere during the interview as one of "extreme aggression and animosity" in which the interviewers "sniggered" when he didn't answer a question right.
Lewis also doesn't think the raclette question, which was made famous by Swiss media, was meant to relax him as Daniel Landolt, the president of Freienbach, said in an interview with a local news website Blick.
"With these questions [about food] we are actually trying to help the candidate. They are intended to relax people," Landolt said in the interview.
But Lewis disagrees.
"It's incredulous that somebody would ask you a raclette question to make you feel relax and less nervous — it's an utter untruth," said the Briton.
Lewis, however, is not one to give up, and he plans to continue applying until he obtains Swiss nationality.
"The fact that a few local people who live in a village rejected me doesn't have any impact on what I think about this country and the greatness of this country."
However, Lewis believes his case reflects what many other people have had to go through with the application process.
"It's extremely difficult, expensive, and humiliating sometimes."
The commune of Freienbach told Euronews in an email that the proceeding to obtain citizenship contains different parts, one of them a hearing in which the commune checks the integration of the candidate.
"We do this by asking about 50 questions concerning our municipality, the Swiss political system and typical Swiss habits and practices. In this hearing, Mr. Lewis failed, what brought us to our decision."