Citizen of nowhere? Taking the citizenship test
Comments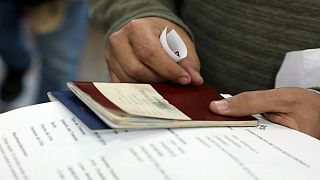 Do you know where raclette comes from?
This was one of the questions that floored a Briton who had lived in Switzerland for most of his life, when he took the citizenship test in his adoptive country.
But would you pass a citizenship test in your country of residence/birth?
So, what's all the fuss about raclette?
Raclette comes from the French-speaking canton of Valais, but even with an encyclopaedic knowledge of the origins of Swiss cheese, potential new citizens have a high chance of failing the notoriously tough tests. Last month a Muslim couple failed the test for refusing to shake hands with members of the opposite sex on their interview panel.
Back in 2017, Funda Yilmaz, born in Switzerland to Turkish parents, failed her citizenship test despite having lived in the country for her entire life. The reasons given? Amongst other things, she did not appear to know enough about how to recycle oil and shopped at Aldi. In the same year, Dutch woman Nancy Holten, who had lived in Switzerland since the age of eight, was turned down because she had previously campaigned against cowbells and objected to hunting and piglet racing. Back in 2016, a Kosovan family was denied citizenship apparently because its members wore tracksuits around town.
The awarding of Swiss citizenship requires agreement by the confederation, canton and the commune where the candidate resides, and it is at this most local level, where panels of residents conduct questioning, that most of the controversy over the citizenship tests arises.
If the Swiss tests have been criticised for their apparently arbitrary content, the citizenship tests elsewhere in Europe are no breeze either.
More racket than raclette?
The Brit's cheese meltdown cost him €2,810 in forfeited application fees, which at least demonstrates that the approval of the Swiss authorities cannot be bought.
The same cannot be said of all European countries. In September 2017, Cyprus was engulfed in a cash-for-passports scandal, in which it was accused of "selling" EU passports to the super-rich willing to invest upwards of €2 million in the country. Portugal was criticised for a similar scheme that required an investment of a minimum of €500,000 in exchange for a visa.
Even in countries where there is no whiff of corruption, obtaining citizenship is not always an option for the cash-strapped. In the UK, the process sets adults back about €1,480 and children €1,125 each.
The process in France is much cheaper: officially the price is €55, although the required certified translations of documents could set you back as much as €500.
Why test?
It may not always be clear what Swiss canton residents are looking for in potential new citizens, but most citizenship tests are explicitly designed to test a candidate's ability to speak the language of their chosen country, their knowledge of national history and culture, and the degree of their integration into the community. This latter quality is also tested by the residency requirement, which varies from five years in the UK to 10 in Spain.
Integration is the most difficult aspect to test these three criteria. Governments face a conundrum: publish the tests in advance, and candidates can simply memorise the answers, which says more about their ability to rote-learn than it does about their level of local knowledge. If, however, the questions are not published, the tests could face accusations of arbitrariness.
The French government has opted to publish a taste of the necessary information in a downloadable livret citoyen, a non-exhaustive 28-page distillation of French culture, politics and history which acts as a guide to the potential new citizen
In Germany, on the other hand, there is a bank of 310 questions, from which 33 are selected, with a pass mark of 17 needed. The full catalogue of questions is available online.
In Spain, no amount of revision will help candidates with the odd trick question that is thrown into the mix, such as "What is the river that runs between Madrid and Barcelona?" (no such river exists).
So, I passed — am I a citizen?
Even if you pass the citizenship test of your chosen country, you may find that you have a long wait ahead of you until you can start applying for your passport.
In France, where at its fastest the process already took at least nine months, in some parts of the country the flood of additional demands post-Brexit mean reported waiting times of two to three years after the original application.