Huge rise in number of migrants using alternative route in bid to reach EU
Comments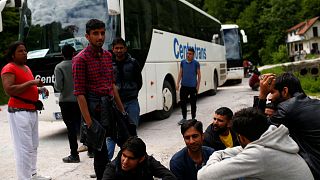 Migrants are turning to an alternative route through the Balkans in their attempts to reach the European Union, new data shows.
They are using a pathway from Greece up through Albania, Montenegro, Bosnia-Herzegovina and beyond into Croatia, according to the International Organization for Migration (IOM).
Bosnia-Herzegovina, Albania and Montenegro registered 6,700 new irregular migrants in the first five months of this year, which is more than twice the number the trio received in the whole of last year.
The majority of the arrivals have been in Bosnia-Herzegovina and hundreds have been sleeping in parks in the capital Sarajevo.
More than 4,000 people — with about a fifth claiming to have come from Syria — have turned up in the country this year, according to IOM, up from 755 last year.
Other migrants arriving in Bosnia-Herzegovina have come from countries such as Iraq, Turkey, Algeria and Afghanistan.
More than a million migrants came to Europe in 2015. The so-called Balkan route into western Europe via Turkey, Greece, FYR Macedonia and Serbia was shut in 2016 when Turkey agreed to stop the flow in return for EU aid and a promise of visa-free travel for its own citizens.
But since autumn, following stricter border controls between Serbia, Hungary and Croatia, smugglers have created a new route from Greece via Albania, Montenegro and Bosnia-Herzegovina to Croatia and western Europe.
Migrants stranded in Serbia since 2016 are also increasingly crossing to Bosnia-Herzegovina and many Iranians are also taking advantage of a visa-free regime introduced last year between Serbia and Iran.