Celebrations at 5-Star Movement rally in Rome
Comments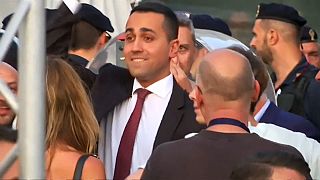 Saturday's 5-Star Movement rally in Rome was supposed to be a call for the impeachment of the President of the Republic Sergio Mattarella.
But thousands of supporters celebrated the so-called 'government of change'.
Western Europe's first populist government has been dubbed the start of Italy's Third Republic, a sentiment shared by the Deputy Prime Minister.
Luigi Di Maio, 5-Star Movement leader, Deputy Prime Minister & Minister of Labour and Industry says, "A power has been put in our hands, the power to change things, the power to use power for (the good of the) citizens not for ourselves. Nothing will be easy, I tell you very sincerely, nothing will be easy."
It was also a symbolic date as it was the Italian Republic day.
Simone Cretella is a 5-Star supporter: "We expect that today, June 2, 2018, will be the National Day of the third republic that begins today, the republic of citizens."
The Italian Republic Day commemorates the 2nd of June 1946, when Italians voted in a referendum to abolish the monarchy in favour of a republic.