Thousands of people in Warsaw protest against compulsory vaccinations
Comments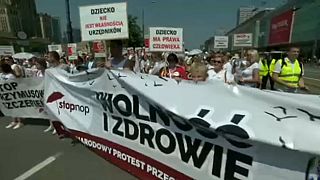 Thousands of people in Warsaw took part in a protest against compulsory vaccination for children.
The demonstration was organised within the framework of the International Day Against Vaccinations.
In Poland, the anti-vaccine movement grows stronger and there are more and more supporters of non-vaccinations for youngsters.
Health authorities are concerned that such campaigns are having a serious negative impact on public health.
It comes as the number of measles cases quadrupled in Europe in 2017, with 35 fatalities, according to the World Health Organization.