Romania and Italy hit hard as measles makes 'tragic' comeback in Europe
Comments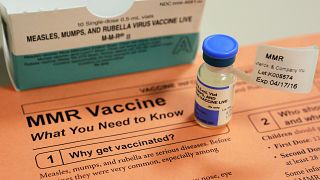 Measles is staging a comeback in Europe, new figures have revealed.
There were 21,315 people hit by disease on the continent last year, four times the 5,273 affected in 2016.
Romania, with 5,562 cases, was the worst hit of WHO's European countries, followed by Italy, with 5,006, and Ukraine, 4,767.
There were 35 deaths from measles in Europe last year — Romania had the most with 19 — compared with 13 in 2016.
'A tragedy we cannot accept'
"Over 20,000 cases of measles, and 35 lives lost in 2017 alone, are a tragedy we simply cannot accept," said Dr Zsuzsanna Jakab, WHO's regional director for Europe. "Every new person affected by measles in Europe reminds us that unvaccinated children and adults, regardless of where they live, remain at risk of catching the disease and spreading it to others who may not be able to get vaccinated."
WHO said the worst-hit countries had seen "declines in immunisation coverage, interruptions in vaccine supply and underperforming disease surveillance systems".
Both Romania and Italy had lower-than-recommended measles immunisation rates in 2016, according to World Bank data.
The percentage of one-year-olds who have the vaccine stood at 86% in Romania and 85% in Italy.
WHO says countries should have immunisation rates of 95% to protect the wider population.
It warns immunisation rates in Europe have fallen from 95% to 93% over the last five years.
Romania has moved to make immunisations mandatory. Italy has, too, but populists have promised to scrap the legislation if they get into power next month.
"Pseudoscience" and media gossip in Romania has worked to induce high levels of scepticism towards vaccines, according to www.vaccinestoday.eu
Dr Valeria Herdea, president of a professional medical organisation in the country, told the website: "We still have in the media, gossip shows with different celebrities of dubious taste, who provide all kind of 'magic methods' for child immunity, without vaccination, but who capture public attention much more than scientific information.
"This is increasing the percentage of those who became suddenly anti-vaccination or at least hesitant."
Last year a director of an immunisation programme in South America, which has been declared free of measles, told Euronews he was concerned immigration from Europe would threaten the continent's achievement.
Europe is a world leader when it comes to scepticism over vaccines, according to a survey by the Vaccine Confidence Project.