MAXXI Bulgari Art prize exhibition opens
Comments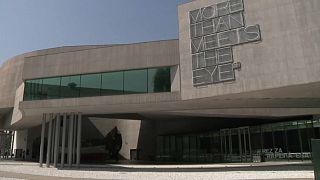 Copyright

Associated Press

-
Italy's MAXXI museum will unveil the artistic works of the 2018 MAXXI Bulgari Art prize finalists on Friday.
Talia Chetrit, Diego Marcon and Invernomuto - a duo comprising Simone Bertuzzi and Simone Trabucchi - were selected as finalists in the competition by an international panel of judges including MAXXI Artistic Director, Hou Hanru.
The partnership between MAXXI and the Bulgari Group, the Italian jewellery and luxury goods brand, aims to promote and encourage up-and-coming young contemporary artists.
For the first time, candidates from outside of Italy were invited to compete.
The exhibition was curated by Giulia Ferracci.
"These artists are authentic contemporary artists. Their generation, which is the '80s generation, shows all the criticality of our time," she said.
The winner will be announced on 13 October; his or her work will then be acquired by the museum.
The exhibition, curated by Giulia Ferracci, will be on display at the MAXXI National Museum of 21st Century Arts from 1 June to 28 October.
The finalists
Talia Chetrit, an American photographer, was chosen "for her ability to reinvent the use of photography mixing past and present languages in her interpretation of relationships between the body, the gaze and identity".
The New York photographer said she was "honoured" to be part of the competition.
"The museum is amazing and the other artists are really great," she said. "It's been a really nice time, spending time with them and also I think the three of our works, all of our works, are trying to dismantle something but with very different subjects. l think it is a nice grouping."
Italian artist Diego Marcon created a CGI video titled Ludwig.
A young boy sings in loop a lied, a genre of music developed in 19th century Germany.
The judges chose the film "for taking an original, poetic approach to experimentation with audio-visual technology and cinematic genres and critical review of historical sites".
"The MAXXI prize - this year's Bulgari prize - is the most important Italian contemporary art award," Diego Marcon said. "It's an honour to participate in an exhibition like this one."
Invernomuto, a duo comprising Simone Bertuzzi and Simone Trabucchi, describe their work as "prismatic, an open device, a meeting place between different languages like music, video sculpture, performance and writing".
Invernomuto was selected as a finalist "for its ongoing interrogations of global social and political issues filtered through a local imagery influenced by both pop and subcultures which makes their work personal and sincere".
Simone Trabucchi said: "The project we proposed for the MAXXI prize was born with the aim of confronting ourselves with this space, created by Zaha Hadid, which I think that was conceived as a trick for the artists, who have to deal with curved walls, a ceiling that lets the light sift through and all these little problems. Our idea was, on the contrary, to create a work starting from these elements."