Carlo Cottarelli 'accepts mandate to try and form next Italian government'
Comments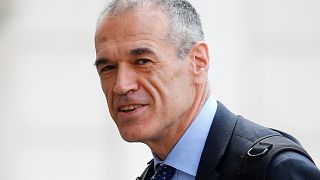 Former IMF official Carlo Cottarelli says he has been invited to try and form a government ahead of fresh elections in Italy.
Cottarelli, who met Italy's president on Monday morning, said if the country's parliament backed him he would put together 2019's budget before new elections early next year. Without MPs' backing, Italy would return to the polls 'after August', he added.
It comes after the anti-establishment 5-Star and far-right League parties abandoned plans to form a coalition, angered by the president's veto of their choice of a eurosceptic to become economy minister.
Italy has been without a government since an election in early March when 5-Star and League emerged as the biggest parties.