K-pop group BTS top US album charts
Comments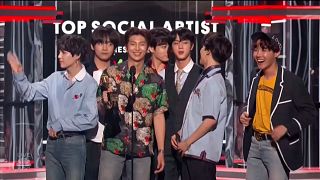 The Billboard music awards ceremony has been held in Las Vegas with many of the prizes going to predictable American chart-toppers like Bruno Mars, Ed Sheeran or Taylor Swift.
Hip-hop household names like Kendrick Lamar and Drake were also honoured, with SZA and Cardi B picking up the top female prizes.
The billboard awards now sprawl across categories including a Latino section, a Christian music section, and award for most popular streamed artist, but also awards for artists who break through on social media, and in this category K-Pop act BTS won for a second year running.
The Koreans of BTS have a self-styled "army" of fans, and in 2018 became the first Korean act to top the Billboard 200 album charts with their third LP, "Love yourself : Tear", and the first album sung mainly in a foreign language to top the charts in 12 years.