Border Patrol kills migrant near Texas-Mexico line
Comments
By Daniella Silva and Alex Johnson with NBC News U.S. News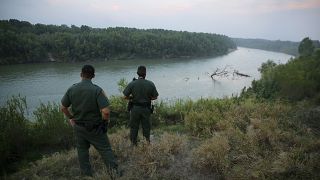 Copyright

John Moore Getty Images file

-
A U.S. Border Patrol agent shot and killed a migrant near the Mexican border in Texas, U.S. Customs and Border Protection said Thursday.
The agent was responding at about 12:30 p.m. (1:30 p.m. ET) Wednesday to a report of "illegal activity" near a culvert in Rio Bravo, in Webb County about 10 miles south of Laredo, when he encountered a group of migrants, according to Customs and Border Protection.
"Initial reports indicate that as the agent attempted to apprehend the group, he came under attack by multiple subjects using blunt objects," the agency said in a statement.
The agent fired at least one round and fatally shot one of the migrants, according to the agency, which said three people whom it described as "illegal aliens" were arrested. It didn't identify the officer or the shooting victim.
Marta Martinez, who lives near the scene, told The New York Times on Thursday that she heard the shot, saw Border Patrol agents and began recording video on her cellphone. She told The Times that the victim appeared to be a woman about 20 years old.
Martinez said that the property doesn't have a culvert and that she didn't see any weapons that the group could have used.
Martinez posted the video, which NBC News hasn't independently verified, to Facebook. In it, people in uniform can be heard yelling, apparently at the migrants, "See what happens?" and "See what you caused?"
The FBI and the Texas Rangers are investigating, Customs and Border Protection said.
The shooting comes as President Donald Trump has been ramping up his rhetoric about illegal immigration. In a speech last week in Washington, the president referred to some people who cross the border illegally as "animals."
Border Patrol agents were involved in 17 use-of-force cases with firearms in the fiscal year that ended Sept. 30, the last full year for which complete data are available, Customs and Border Protection reported.
That was down from 26 during the same period the previous year and from a high of 55 in 2012, according to the agency's data.