Spain's ruling party caught up in corruption trial
Comments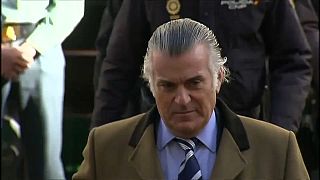 The former treasurer of Spain's ruling People's Party, Luis Barcenas, has been jailed for his part in a corruption case that has also ensnared dozens of other high-ranking party members.
The case has plagued Prime Minister Mariano Rajoy, who was called as a witness last year and asked about renovations to the party HQ.
''I am completely unaware of how the construction bills were paid because I didn't handle any financial issues, as I have repeated on numerous occasions,'' Rajoy told the court.
Barcenas was sentenced to 33 years in prison and fined 44 million euros for money laundering, personal enrichment and a number of tax crimes.
Twenty-nine of the 37 party members were sentenced to a combined 351 years behind bars.
The case became known as the "Gurtel case" after the nickname of Francisco Correa, a businessman seen as the head of the kickback scheme.