NFL teams to be fined if protesting players kneel during anthem
Comments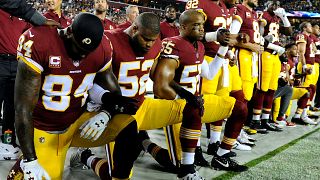 The controversy over NFL players kneeling during the US national anthem has taken a new turn.
The American football league has announced it will fine teams and discipline players if the practice continues.
Last year some players knelt during the anthem in protest against police brutality of African Americans.
Under the new policy players who choose not to stand may now remain in the locker room until after the anthem is finished.
The move is being seen as a victory for President Donald Trump who loudly demanded an end to such protests calling them "disgraceful" and unpatriotic. He also urged the played to be fired.