Anti-abortion campaign in Ireland claims only existing restrictive law will protect babies with Down syndrome
Comments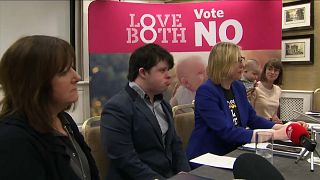 The abortion debate in Ireland is raging right up to Friday's vote, with fake news, accusations of social media manipulation, passionate debate and argument leading to a highly-charged atmosphere.
The anti-abortion camp has come in for some criticism for their latest press conference, bringing Down Syndrome patients into the argument by saying only the existing legislation protects them from being aborted.
A father of a Down syndrome child says he does not like the way his son and fellow patients are portrayed.
"The emphasis on children and on vulnerable looking children and the emphasis on people with Down syndrome as victims hasn't been helpful and it's not... I and other parents don't find it very helpful that this is often the only context in which our children see kids like them, is in this advertising. I wish they could see more kids like my son Ben in cartoons and television shows," said Darach O Seaghdha.
Those seeking repeal of the 1982 law say the anti-abortion camp is using a vulnerable demographic to sway voters and of misleading people over the outcome of a 'Yes' vote.
_This story was updated to reflect the correct spelling of Down syndrome. _