New iniative to rescue migrants
Comments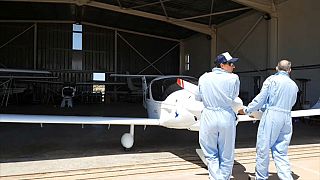 Two French pilots hope to save migrants in Libyan waters.
Jose Benavente and Benoit Micolon invested all their savings, 130,000 euro's, to buy a light plane after that iconic image of the 3 year old boy whose body was washed up on the shore in Turkey.
Their first maiden voyage as Pilotes Volontaires over the Mediterranean was this month (12 May 2018).
Founder and pilot, José Benavente explains the importance of rescuing migrants quickly. "We have extensively consulted with the NGOs working in this area who are running the rescue ships here and we know that sometimes small refugee boats may be sinking in just some hundreds of meters away from NGO ships and they are just not noticed. If these sinking boats are not rescued promptly they're bound to go down".
"Because these boats are bound to run out of gas in just a few hours in the sea, They'll start to drift away, and, most of the time they are just in rubber dinghies, which start to lose air."
"And we know that today this part of the Mediterranean has become the largest cemetery of the refugees in the world".
Pilot Benoit Micolon says, "We're sometimes being asked - how do we exactly save these people with our plane. Can we land near them on water, can we drop provisions, life vests and this sort of thing? So - no. Our mission is just observation and getting rescue boats to come and save these people as soon as possible".
They discovered two boats.
The first was empty but it was marked to say they had been rescued earlier that day.
The other had around 100 people on board and was in the middle of being rescued.
So far this year, more than 600 people have died trying to cross the Mediterranean Sea.
Last year, 171,635 migrants and refugees entered Europe by sea, according to the International Organisation for Migration (IOM) and more than 3,000 died.