Britain returns to normal after Royal wedding
Comments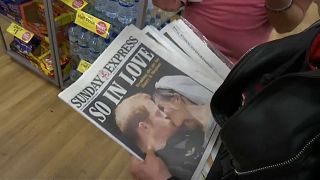 After the glitz and glamour of Prince Harry's wedding to American actress Meghan Markle, Britain returns to normal.
The clean up began on the streets of Windsor and locals and tourists rushed to newspaper stalls and bookstores to buy newspapers commemorating the royal wedding that took place in the town the day before.
The lavish wedding at Windsor castle dominated the headlines of the country's Sunday newspapers.
People were eager to keep the newspapers as a souvenir of the day with one tourist buying six papers to take back to the U.S.
"Last time when I went to William's wedding and brought back one or two, people in New York were clamouring for them," said Amercan Royal fan, Nancy Spencer. "They wanted to see the ones from here, the real thing. Yeah, so now I am getting all. You have to get up early."
It was also a good time to pick up other souvenirs of the Royal wedding as shops cut prices to encourage buyers.
For the Royal family it was business as usual as the Queen attended church on Sunday with no sign of the newlyweds.
Prince Harry and Meghan Markle will delay heading off for their honeymoon, instead attending a birthday party for his father Prince Charles just days after marrying in a ground-breaking ceremony that blended the modern with the traditional.