Pregnant rhino sparks hope for subspecies
Comments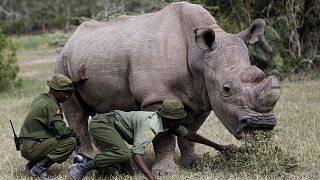 A southern white rhino at the US San Diego Zoo Safari Park has become pregnant through artificial insemination, sparking hope for efforts to save a near-extinct subspecies of one of the most recognisable animals in the world.
The rhino was impregnated through artificial insemination with sperm from a male southern white rhino, researchers at the zoo said in a statement on Thursday.
They described the pregnancy as an "important milestone" in the ongoing work to develop the scientific knowledge needed to genetically recover the northern white rhino, a distant subspecies of the southern white rhino.
"The confirmation of this pregnancy through artificial insemination represents an historic event for our organisation but also a critical step in our effort to save the northern white rhino," said Barbara Durrant, director of Reproductive Sciences at the zoo.
But she warned that it would be "a long time before we can declare a real success with the birth of a healthy southern white rhino baby."
The world's last male northern white rhino died in Kenya's Ol Pejeta Conservancy in March, leaving only two females of its subspecies alive.
The conservancy said the rhino, named Sudan, was euthanised at 45 years of age after being treated for "age-related complications" that had affected his muscles and bones and given him extensive skin wounds.
Ol Pejeta CEO Richard Vigne told Euronews at the time that scientists hoped to use a copy of Sudan's genetic material taken on the day of his death to bring the species back from the brink of extinction through in vitro fertilisation (IVF) techniques.
The process, he said, involves removing eggs from the two remaining females and fertilising them with Sudan's semen to create embryos, which will ultimately be put into surrogate southern white rhinos.
"So far they've been able to remove eggs but they have as yet not been able to successfully mature the embryos to the point that they can be frozen," he said.
"This is new technology. Obviously, it's been practiced for many years in humans and other domestic species of livestock, such as cows and sheep and horses so it's definitely doable... but doing it in them [rhinos] is fraught with difficulty."