Hong Kong: Activist found guilty of rioting in 2016
Comments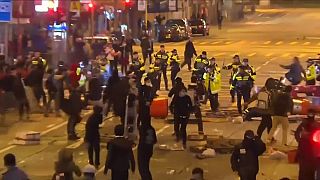 Edward Leung, a prominent independence activist in Hong Kong, is driven away after being found guilty of rioting.
He could face up to 12 years in prison. Leung's lawyer, Edwin Choy, said he was unhappy with the verdict but had not discussed an appeal.
The verdict's in relation to an overnight protest that turned violent in 2016, one of the former British colony's worst ever.
Around 130 people were injured, most of them police officers, as masked activists threw bricks and burned trash cans.
They'd been demonstrating against Chinese authorities, for allegedly encroaching on their culture and autonomy.
Charged with multiple offences, 26-year-old Leung pleaded guilty to assaulting a police officer, but was cleared of inciting a riot.
Hong Kong law defines a riot as an unlawful assembly of three or more people where any person "commits a breach of the peace."
A hearing on mitigation for Leung has been set for Monday before the court decides on a date for sentencing.