Anti-establishment Italian parties agree basis for coalition
Comments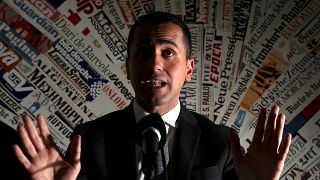 Italy's populist 5-Star Movement and far-right League party have agreed a policy programme for their planned coalition government.
A draft of the document seen by the news agency Reuters outlined the key proposals.
The document covers foreign policy, defence, justice reform, immigration and other domestic issues
Some proposals could cause alarm to the EU such as a slashing taxes while increasing welfare spending, which would increase already high government debt levels.
There are also proposals that would please right-wing voters such as an end to the obligatory and automatic distribution of asylum seekers, increased deportations and closure of unregistered Roma camps.
The document also proposed that Russia is seen as "an economic and commercial partner" and that sanctions on Russia should be "immediately" withdrawn.
The two parties are expected to present their program to the Italian president Sergio Mattarella on Monday.