Watch: Motorised shed breaks speed record on Welsh beach
Comments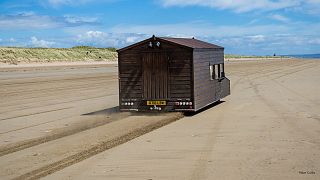 A motorised garden shed has broken its own land speed record, reaching more than 160 kilometres per hour while racing along a Welsh beach.
Kevin Nicks, the owner of the "Fastest Shed", recorded scores of 160 and 168km/h (101-105 mph) in runs at the Straightliners land speed event on Wales' Pendine Sands beach over the weekend.
He told Euronews he was "quite ecstatic" with the result, which marked a major improvement on the shed's previous record of 129km/h (80 mph).
Nicks said it was an honour to have achieved his goal at Pendine Sands, which has been home to automotive racing and land speed attempts since the 1920s.
The four-wheeled shed, created from a broken down Volkswagen Passat, boasts an Audi RS4 engine, the installation of which Nicks said "consumed his life."
The 53-year-old gardener is now preparing to take the shed to a Top Speed and Wheelie event in England this weekend to see how much faster it can go on a tarmac.