Neapolitan pizzaoili break record for world's longest fried pizza
Comments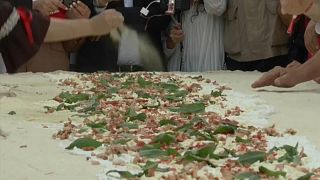 Copyright

Associated Press

-
One hundred Neapolitan pizza makers made a new world record Wednesday for a fried pizza - 7.15 metres long.
The traditional Neapolitan "fried" pizza is a circular closed pizza with cheese and other ingredients inside.
After rolling out the dough, the pizzamakers put the ingredients inside, closed it back up and dip the filled dough in a long vat of boiling oil.
The effort took hours.
The "pizzaioli" used 83 kilos of flour 50 kilos of mozzarella cheese, 15 kilos of ricotta cheese, 7 kilos of tomato sauce, 15 kilos of small pieces of lard, known as "ciccioli" and some basil leaves and pepper.
In December 2017 the art of the "Pizzaioli" - the Neapolitan pizzamakers - was added to the list of "Intangible Cultural Heritage of Humanity" by the UN.