Suicide bombers attack churches in Indonesia, at least 6 dead
Comments
By Alice Tidey & REUTERS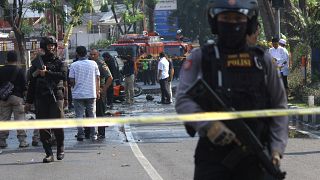 -
Copyright

Antara Foto/Moch Asim via REUTERS
Suicide bombers attacked three churches in Indonesia's second-largest city of Surabaya on Sunday, killing at least six people and wounding more than 35 others, police said.
An unexploded bomb has also been secured by police.
Authorities suspect the Islamic State-inspired group Jeemah Ansharut Daulah (JAD) of being behind the attacks, although no one has claimed responsibility yet.
Police told media the attacks were carried out by "suicide bombers" and warned the toll could rise further.
East Java police spokesman Frans Barung Mangera said explosions took place in three churches and 35 people had been taken to hospital.
"There is one location where we can't enter yet," Mangera told reporters near the scene of one of the bombings.
Television footage showed one church engulfed in fire, with thick, black smoke billowing up.
Wawan Purwanto, a spokesman for the country's intelligence agency told Metro TV that the attack was likely linked to a deadly prison hostage incident at a jail near Jakarta involving Islamist militants last week.
Asked who he thought were the brains behind the attacks, Purwanto said: "Still the old group, JAD, who has planned this for sometime."
Indonesia is the world's largest Muslim-majority country and has seen a recent resurgence in homegrown militancy.
The bombings come days after Islamist militant prisoners killed five members of an elite counter-terrorism force during a 36-hour standoff at a high security jail on the outskirts of the capital, Jakarta.
The country has had some major successes tackling militancy inspired by al Qaeda's attacks on the United States in 2001. But there has been a resurgence of Islamist activity in recent years, some of it linked to the rise of Islamic State.
The most serious incident was in January 2016 when four suicide bombers and gunmen attacked a shopping area in central Jakarta.
Churches have also been targeted previously, including near-simultaneous attacks on churches there at Christmas in 2000 that killed about 20 people.
Police ordered the temporary closure of all churches in Surabaya on Sunday, and a large food festival in the city was cancelled.
(Reporting by Agustinus Beo Da Costa, Fransiska Nangoy; Writing by Kanupriya Kapoor, Lincoln Feast and Ed davies; Editing by Simon Cameron-Moore)