Kilauea volcano eruption could spray rocks for kilometers
Comments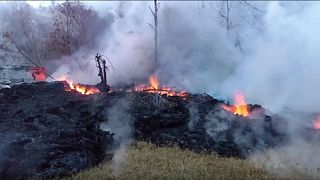 A large explosion in Hawaii's Kilauea volcano on Wednesday may mark the beginning of more violent, explosive eruptions that could spray rocks for kilometers and dust nearby towns in volcanic ash and smog, the U.S. Geological Survey said.
Kilauea, Hawaii's most active volcano, erupted on Thursday, and a powerful earthquake shook the crater the next day. Lava flows from fissures on its flank have destroyed at least 36 homes and other buildings, and caused the evacuation of some 2,000 residents.
The USGS warned that more violent eruptions at the crater could begin mid-May, shooting rocks weighing several tons for over one kilometre, hurling pebble-sized projectiles several kilometres and dusting areas up 32 km away with ash.
"This is the first of perhaps more events like that to come," Tina Neal, the scientist in charge of the USGS Hawaiian Volcano Observatory, said of Wednesday's blast which shot projectiles from the crater.
The town of Hilo some 40 km northeast of Kilauea on Hawaii's Big Island and the village of Pahoa 39 km east, could be exposed to volcanic air pollution, or so-called vog, and a layer of ash should explosive eruptions begin and prevailing wind directions shift, Neal said.
Such steam-driven explosions would be triggered by water running into the crater's falling lava lake should it drop below the level of groundwater.
Geologists cautioned that Kilauea's past explosions had been relatively small on a global scale, and while ash from the volcano posed a nuisance as an eye and respiratory irritant, it was not a serious health hazard. "We don't anticipate there being any wholesale devastation or evacuations necessary anywhere in the state of Hawaii," said Donald Swanson of the Hawaiian Volcano Observatory.