Ebola outbreak confirmed in DR Congo
Comments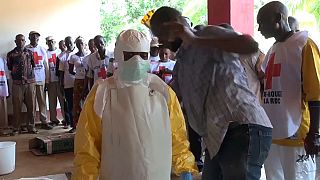 An Ebola outbreak has been declared in the northwest of the Democratic Republic of Congo.
Two cases of the disease have been confirmed. At least 17 people have died.
Before the outbreak was confirmed, local health officials reported 21 patients showing signs of the disease around the village of Ikoko Impenge, near the town of Bikoro.
Who has confirmed the outbreak?
Medical workers. Teams supported by the World Health Organisation and medical charity Medecins Sans Frontieres were dispatched to the zone on Saturday. They took five samples from suspected active cases.
Two of these tested positive for the Zaire strain of the Ebola virus, according to the health ministry.
"What is needed to deal with the Ebola outbreak is to have in place treatment centres so all of those who are infected with the virus can be treated appropriately and timely. It is also important to have in place contact-tracing teams who will follow for twenty one days all those who may have been exposed to the virus," said Tarik Jasarevic from the WHO.
Is this the first time Ebola has broken out here?
No. It is the ninth time the disease has been recorded in the central African nation.
The eastern Ebola river gave the deadly virus its name when it was discovered there in the 1970s.
It comes less than a year after the last outbreak which killed eight people.
How is the disease spread?
It is thought to be spread over long distances by bats. They can host the virus without being killed by it. It often spreads to humans via infected bushmeat.