Stormy lawyer says Russian oligarch put $500K in Michael Cohen account
Comments
By Sarah Fitzpatrick and Tracy Connor and Tom Winter and Courtney McGee and Robert Windrem with NBC News U.S. News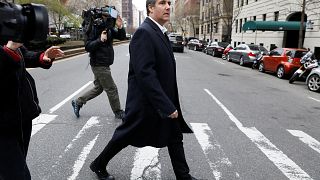 -
Copyright

Brendan McDermid Reuters
Stormy Daniels' attorney claimed Tuesday that President Donald Trump's personal lawyer Michael Cohen received $500,000 from a company controlled by a Russian oligarch, deposited into an account for a company also used to pay off the adult film actress.
Daniels' attorney, Michael Avenatti, also detailed other transactions he said were suspicious, including deposits from drug giant Novartis, the state-run Korea Aerospace Industries, and AT&T.
Avenatti provided no documentation to support his allegations, contained in a document posted to Twitter. NBC News has not been able to corroborate the accusations, which if true could add a new dimension to the federal investigation into Cohen.
Avenatti said his investigation uncovered eight transactions between January and August 2017, totaling half a million dollars, from Columbus Nova, which he said is controlled by Russian billionaire Viktor Vekselberg and his cousin Andrew Intrater.
The money was deposited into a First Republic account for Essential Consultants, Avenatti said. That's the same company Cohen used to wire $130,000 to Daniels, whose real name is Stephanie Clifford, to stop her from going public with her account of an alleged sexual affair with Trump a decade ago.
As the New York Times first reported last week, citing people familiar with the matter, agents working for Special Counsel Robert Mueller searched and questioned Vekselberg as he got off a private plane in the New York area earlier this year.
Vekselberg — one of the richest men in Russia with a fortune from aluminum and oil — has not been accused of wrongdoing in connection with either Mueller's investigation of Russian meddling in the 2016 presidential election or a separate probe of Cohen by the U.S. Attorney's office in Manhattan.
Cohen and his attorney could not be reached for immediate comment. Vekselberg, who was sanctioned by the U.S. Treasury Department last month, did not immediately respond to a request for comment.
Avenatti also said he had uncovered:
Four payments of just under $100,000 made by Novartis to Essential in late 2017 and early 2018. He noted reports that said Trump met with Novartis' CEO in January 2018. Novartis said it had no immediate comment.

AT&T made four payments of $50,000 each to Essential in late 2017 and early 2018. In a statement, AT&T said it engaged the the firm in early 2017 to "provide insights into understanding the new administration. They did no legal or lobbying work for us, and the contract ended in December 2017."

Korea Aerospace Industries made a $150,000 payment to Essential in November 2017. KAI could not be reached for immediate comment.
Nicholas Biase, a spokesperson for the U.S. Attorney's Office in Manhattan, declined to comment on Avenatti's report and declined to confirm its authenticity. First Republic provided no immediate comment.
The White House has said Trump denies having an affair with Daniels. Cohen has said he put up the $130,000 she was given in a non-disclosure agreement. Trump's new attorney, former New York City Mayor Rudolph Giuliani, said last week that Trump repaid the money to Cohen.