Trump responds to Cohen taping: 'Your favourite president did nothing wrong'
Comments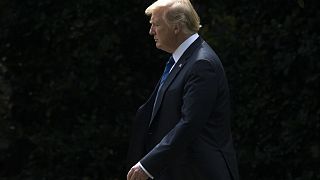 US President Donald Trump claimed on Saturday that he "did nothing wrong" after reports surfaced that his former personal attorney Michael Cohen had secretly recorded him discussing paying off an ex-Playboy model who claimed they'd had an affair just months before the 2016 presidential election.
In his first public comments since reports were published on the recording in The New York Times and Wall Street Journal on Friday, Trump said it was "inconceivable that a lawyer would tape a client — totally unheard of & perhaps illegal."
The recording was seized by the FBI during a raid of Cohen's office earlier this year. 
In it, Trump and Cohen reportedly discuss paying Karen McDougal, who claims she had an affair with Trump.
The conversation came weeks after McDougal says the National Enquirer tabloid agreed to pay her $150,000 for the story.
The story was never published.  
David Pecker, the CEO and chairman of the National Enquirer's publisher American Media Inc, is a Trump supporter who has reportedly described the president as a "personal friend." 
Payments made to cover up embarrassing information ahead of the election could violate campaign finance law.
Trump's current attorney, Rudy Giuliani, said the payment was never made and the tape shows Trump did nothing wrong.