Real Madrid celebrates Champions League victory
Comments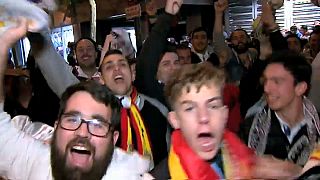 It has been a night of celebrations for Real Madrid fans after their team reached the Champions League final for the third year in a row.
They drew 2-2 with Bayern Munich to win 4-3 on aggregate.
But Coach Zinedine Zidane admitted it was a close call.
"You can't achieve things (easily) in the Champions (League) because we know what a demanding level it is,'' he said. ''So you can't reach the final without suffering. And as you said, it's even better, it's nicer when you suffer for it. It was a bit hard on the heart, but now we have to remain calm. We'll have some time to rest.''
Bayern coach Jupp Heynckes clearly felt it should have been them celebrating last night.
"If you look at both games it was quite clear we were the best team. But yet we weren't able to reach the final. I am very disappointed for the team and for myself. If you look at today's game, generally speaking, it was an advert for football.''
Real Madrid left back Marcelo admitted he was lucky not to concede a penalty..... a decision that could have swung things the other way.
"The ball hit my hand, yes," he said. "A hand inside the box is a penalty, yes, but I've said many times I'm not going to speak about referees when they make mistakes against us and I won't do it now.''
Real will meet either Liverpool or Roma in the final in Kiev on May 26.