Three more killed in Gaza protest
Comments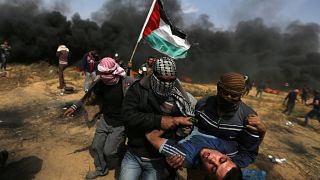 Israeli troops shot dead three protesters along the Gaza border on Friday, Gaza medics said, hours after the United Nations human rights chief criticised Israel for using "excessive force" against demonstrators.
Israeli troops have killed 41 Palestinians and wounded more than 5,000 others since Gaza residents began staging protests along the border fence on March 30 to demand the right of return for Palestinian refugees.
The troops were holed up behind fortifications on their side of the 40km (25-mile) border fence and fired live ammunition and tear gas at protesters at five locations on the Gazan side.
Gaza medical officials said two protesters who were struck by bullets were in critical condition in hospital and 600 others were wounded.
The Israeli military said 12,000-14,000 Gazans were participating in what it described as "riots," and that some had tried to breach the border into Israel. It said troops "had operated in accordance with the rules of engagement" to stop people crossing the border.
The Gaza health ministry said 200 were wounded by gun fire, including a Palestinian journalist who was hit in the foot by a bullet.
Dozens more, including four medics, were treated for gas inhalation, as Israeli forces showered the area with tear gas canisters from behind their fortifications in Israel.
Protesters hurled stones and rolled burning tyres toward the fence, and some attached cans of burning petrol to kites and flew them into Israeli territory.
Others cleared away barbed wire coils which Israeli troops had placed in Gazan territory overnight in a bid to create a buffer zone between protesters and the fence.
After dark, the Israeli military said in a statement that its fighter jets had struck six targets belonging to Hamas' naval force "in response to the terror activity and mass attempt to infiltrate into Israeli territory earlier today."
Hamas said two boats moored off the Gaza shore were hit, causing damage, but that no casualties were reported.
The protests come at a time of growing frustration for Palestinians as prospects for an independent Palestinian state look poor. Peace talks between Israel and the Palestinians have been stalled for several years and Israeli settlements in the occupied territories have expanded.