South Koreans split on hopes and fears for future as relations with North take off
Comments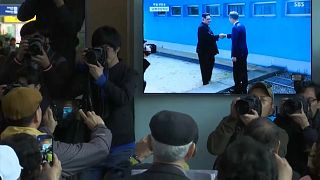 South Koreans are, like much of the rest of the world, agape at the speed in which events are moving on the peninsular, and the warming in relations with their northern neighbour, especially what appears to be a burgeoning personal rapport between the two leaders.
"Seeing the two leaders meet, it feels as if the unification already took place. But I am also worried and suspect that we may be deceived by North Korea. I hope for a successful outcome but I am worried at the same time," said a Seoul resident old enough to remember the dark days of the past.
After more than half a century of living on the edge of war with only an armistice keeping a lid on conflict many are delighted the prospect of peace appears closer than fpr a long time, but others continue to see North Korea as an enemy not to be trusted, and are demonstrating against the meeting, and Kim Jong-un and his regime.
A complete denuclearisation of the two Koreas is the two leaders' agreed goal, but for the anti-North camp that would only leave the south vulnerable to numerically vastly superior conventional forces, and nothing can change the capital's geographical location, well within North Korean artillery range.