Latin America experiences highest murder rate in the world
Comments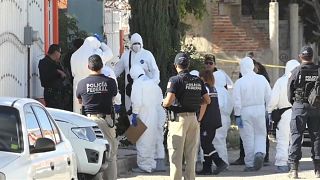 Parts of Latin America are experiencing the highest murder rates in the world with a quarter of all the homicides on Earth being committed in just four countries in the region.
The figures come from a report by the think tank Igarapé which says criminal violence is singled out as one of the top concerns of citizens in the region.
Compared to other parts of the world, the Americas have twice the homicide rate of Africa and ten times the rate of Europe.
And there are warnings that murder rates are likely to rise even further if action is not taken to tackle organised crime and increase public trust in police.
The report highlights Brazil, Colombia, Mexico and Venezuela as having especially high levels with Brazil alone contributing 13 percent of all the world's murders.
Igarapé suggests that the reason for such disproportionately high murder rates could, in part, be down to the unusually rapid rate of urbanisation in these countries.
By the turn of the century three-quarters of people in Latin America were living in cities; twice the rate of Asia and Africa.
The report also suggests there are too few police and that some officers are, themselves, linked to criminal gangs.
<blockquote class="twitter-tweet" data-partner="tweetdeck"><p lang="en" dir="ltr">Inspired by <a href="https://twitter.com/JossFong?ref_src=twsrc%5Etfw">@jossfong</a>'s <a href="https://twitter.com/voxdotcom?ref_src=twsrc%5Etfw">@voxdotcom</a> video, we took a closer look at criminal violence in Latin America: <a href="https://t.co/XpImgxeZlS">https://t.co/XpImgxeZlS</a> <a href="https://t.co/54lJ7M6mbu">pic.twitter.com/54lJ7M6mbu</a></p>— Igarapé Institute (@igarape_org) <a href="https://twitter.com/igarape_org/status/989929245014220800?ref_src=twsrc%5Etfw">April 27, 2018</a></blockquote>
<script async src="https://platform.twitter.com/widgets.js" charset="utf-8"></script>